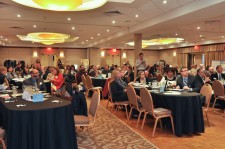 Event: Pulse Center for Patient Safety Education & Advocacy Annual Spring Symposium Date/Time: May 4, 2018 — 11:30 A.M. to 5:00 P.M. Where: 1393 Veterans Highway, Hauppauge, N.Y.
HAUPPAUGE, N.Y., May 3, 2018 (Newswire.com) - On May 4, 2018, history will be made when almost fifty people representing thirty nonprofit organizations from Nassau and Suffolk Counties will be educated on patient safety and medical errors, which are the third leading cause of death in the country.
Experts on patient safety will share their expertise on medical errors with the participants and will explain how the groups can help the communities they serve to achieve better treatment outcomes.
Robin E. Moulder, RN, BSN, MBA, CPHQ, Manager, Division of Quality & Safety at Memorial Sloan Kettering Cancer Center is the Program Chair. Speakers include:
· Michael R. Cohen, RPh, MS, ScD (hon), DPS (hon), FASHP President, Institute for Safe Medication Practices
· Bruce E. Hirsch, M.D. FACP, AAHIVS, Attending Physician, Division of Infectious Diseases, North Shore University Hospital
· Edward Pollak, M.D., Medical Director and Patient Safety Officer, Division of Healthcare Improvement, The Joint Commission
· Anthony J. Santella, DrPH, MPH, Adv Cert, MCHES, Associate Professor of Public Health, Hofstra University
Each speaker brings a wealth of information ready to share in small groups to answer participants' questions.
Some of the organizations attending include:
National Coalition of 100 Black Women Long Island Chapter - which provides education, advocacy, and empowerment to African-American women and girls.
Curvy Girls - An organization to reduce the emotional impact of scoliosis by empowering young girls through education and mutual support.
Suffolk County Dept. of Health Services - which works to improve health outcomes and eliminate existing health disparities among racial and ethnic minorities in Suffolk County.
This is the first Pulse Center for Patient Safety program Anthony Santella has attended and he puts it this way: "Patient safety is an issue of public health significance. In public health, our goal is to keep vulnerable communities free from disease, injury, disability, and death, so bringing health and human service professionals together to discuss critical issues in patient safety practice and research is important if we have hopes of advancing the field."
Ilene Corina, President of Pulse Center for Patient Safety Education & Advocacy and organizer of the event, says, "Patient safety and medical errors are a critical problem in this country and we can't leave it all up to the people who work in healthcare to get it right 100% of the time."
This is the fifth Long Island Patient Safety Symposium organized on Long Island by Pulse but this time it's different. "Only nonprofit leaders and decision makers have been invited to attend," explains Corina.
The Pulse Patient Safety Education Fund has been set up at the Long Island Community Foundation to distribute grants to participating, qualifying nonprofit organizations following the program.
The program is hosted by The Nassau Suffolk Hospital Council.
Sponsors include:
Diamond
Memorial Sloan Kettering Cancer Center
Betty and Gordon Moore Foundation
Northwell Health
Bronze
Blue Ocean Wealth Solutions, A member of MassMutual Financial Group
Institute for Safe Medication Practices
Additional support comes from The Lewis Blackman Foundation Family First Home Companions, and Bruce E. Hirsch, MD.
Doors open at 11:30 A.M. for interviews, networking, and lunch. The program starts at 12:30 P.M.
The event is fully booked and no further registrations are being accepted.
Media contact: Ilene Corina (516) 650-2421 or e-mail icorina@pulsecenterforpatientsafety.org
Source: Pulse Center for Patient Safety Education & Advocacy
Share: