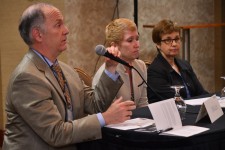 Three leaders in preventing healthcare-associated infections discuss how patients can stay safer in hospital.
Wantagh, NY, May 8, 2017 (Newswire.com) - There's one place you never want to "go viral": in the hospital (or in the clinic, nursing home, rehab facility, or even the dentist's office.) HAIs — hospital-acquired or healthcare-associated infections — claim the lives of tens of thousands of patients in the US every year, and harm countless more. (And it's not just viruses: bacteria can be just as dangerous.)
At a symposium held in Plainview, NY on May 1, an audience heard three leading infection-prevention specialists discuss the ways good patient safety protocols can reduce that toll.
The event, one of an annual series hosted by Pulse Center for Patient Safety Education and Advocacy (CPSEA), brought together members of the public and healthcare professionals to hear Janet Eagan, RN (Manager, Infection Control at Sloan Kettering Cancer Center), Dr. Bruce E. Hirsch (Attending Physician, Div. of Infectious Diseases, North Shore University Hospital) and Lisa Wandowski DNP, PNP, CIC (Infection Control Specialist, Standards Interpretation Group, The Joint Commission Enterprise) analyze this serious and growing problem.
After the Symposium participants were asked to complete evaluations of what they had learned. Some of the comments were:
- Patients and their advocates need to make sure all medical staff wash hands before approaching the bedside. (Sterile gloves are not a substitute!)
- Having a colonoscopy? Ask about the facility's equipment sanitation routine: scopes used in colonoscopies are often not sterilized, just sanitized.
- Overuse of powerful antibiotics is a serious issue, encouraging the rise of resistant "superbugs," compromising patients' healthy microbiomes, and polluting the environment.
- Dangerous intestinal infections such as "C-Diff" can be successfully treated with "fecal transplants" containing healthy bacteria.
In addition to its annual symposia, Pulse — the only grassroots patient safety organization on Long Island — provides a wide range of education, training, and direct work with vulnerable segments of the population. Visit www.pulsecenterforpatientsafety.org to learn more. To discuss this or other patient safety issues with Pulse President Ilene Corina, call (516) 579-4711.
Source: Pulse Center for Patient Safety Education & Advocacy
Share: