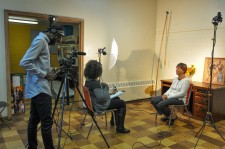 Wantagh, NY, October 4, 2016 (Newswire.com) - ​On Saturday, October 1, the Pulse Center for Patient Safety Education and Advocacy conducted interviews of African-American women living on Long Island to learn about their experiences of racial bias when receiving medical care. Their responses will be used to develop a "toolkit" to fight subtle and not-so-subtle discrimination wherever it is encountered in the healthcare system.
The project, titled "Women of Color and Healthcare: Exploring the Challenges" is also the subject of a documentary video now in production.
"Awareness comes first, but then you have to empower them to do what they need to do . . ."

Dr. Leslie Farrington, Co-Director, Women of Color and Healthcare Project
Despite many advances in recent years, black women continue to suffer significant disparities in healthcare outcomes relative to white women. This is true even of educated, economically successful black women living in "good" neighborhoods.
For example, the Centers for Disease Control (CDC) reports that the breast cancer death rate for black women aged 45-64 years were 60% higher than for nonblack women. According to the American College of OBGYN (ACOG) African-American women have higher infant, fetal and perinatal mortality rates than women of other ethnicities. These statistics cut across socioeconomic lines and affect even black professional women. The only variable, in many cases, seems to be skin color.
Is bias real? "Absolutely, says Rev. Dr. Lynn Collins in her interview. "As I look at my daughter's care, and then I look at my granddaughter, who is biracial with blue eyes and blond hair, I can see the difference in the attention that's given."
"Vulnerable groups in society always face extra challenges when it comes to reaching better health outcomes," comments Dr. Leslie Farrington, one of the "Women of Color" project's co-directors. "Black women are no exception. Awareness comes first, but then you have to empower them to do what they need to do, to get proper care for themselves and their families."
In her interview, Alexandra C. described hospital staff with "attitude" about her family's efforts to make their very sick relative comfortable. She said, "There was another patient, a Caucasian, on the other side of the room and we could see he was treated differently. We saw the disparity."
"Bias is subtle," notes the project's other co-director, Beverly James, RN. "Many physicians and other people in the healthcare industry would be shocked [at being considered biased.] They don't even know. We can't do it top-down, we have to do it bottom-up."
The interviews will be followed by two focus groups to be held in Freeport on October 19 and October 22.
The project is supported by a crowdfunding campaign on GoFundMe, where a short video with Leslie Farrington introduces the topic and explains its importance. https://www.gofundme.com/2nw6tpxn. (Please donate generously!)
For more, please call Ilene Corina, President Pulse CPSEA (516) 579-4711.
Or write to icorina@pulseofny.org
Source: The PULSE Center for Patient Safety Education and Advocacy
Share: