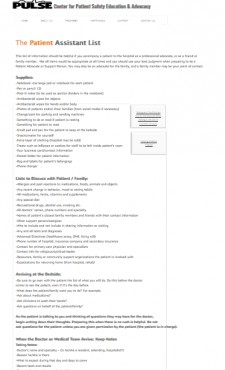 Patient safety nonprofit develops worksheet for families.
Wantagh, NY, November 16, 2017 (Newswire.com) - Pulse Center for Patient Safety Education and Advocacy (Pulse CPSEA) has announced the release of a new tool to help families or friends protect and support their loved ones being treated in hospital. The worksheet may even have value for professional patient advocates.
According to Pulse president Ilene Corina, "Medical errors are the third-leading cause of death in this country, and patient safety experts tell patients to bring someone with them whenever they are admitted to the hospital. However, these experts don't tell the family members or friends what to do when they get there. This simple guide will help keep patients safe and engaged in their care."
Called Patient Assistant Guide, the new Pulse worksheet provides a bulleted to-do list for those taking on the role of advocate for a patient. It covers a range of topics including:
· Supplies. What to bring to the hospital — covering everything from notebooks to antibacterial wipes
· Things to discuss with patient and family
· What to do first when arriving at the bedside
· What to do when the doctor or medical team arrives and when they leave
· What to do to reduce the chances of infection or falls
· Things to check that the hospital is doing
The information in Patient Assistant Guide supplements Pulse CPSEA's many other education and training programs and workshops. These expand on this basic list and teach principles of patient advocacy through risk awareness, role-play, communication training, and more. Pulse advocates even work with patients and families at the bedside.
Corina concludes, "The Patient Assistant Guide is yet another tool developed by Pulse CPSEA members and leaders to help the family, friends or even professional patient advocates be more prepared to work as active members of the care team."
To learn more about this and others tools developed by Pulse CPSEA, please call 516-579-4711.
Source: Pulse Center for Patient Safety Education & Advocacy
Share: