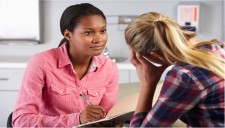 Registration for Certificate Program closes October 12
WANTAGH, N.Y., October 8, 2018 (Newswire.com) - Pulse Center for Patient Safety Education and Advocacy is pleased to announce that the next sessions of its Family-Centered Patient Advocacy Training course will be held on two successive Fridays, October 19 and 26, from 8:30 AM to 12:30 PM.
Seating is limited, so participants must register by October 12. Register at www.patientsafetyevent.org
The person who loves the patient most may not be the best advocate.
The training will be offered at:
Long Island Community Foundation
900 Walt Whitman Rd.
Melville, NY 11747
Patients undergoing medical treatment are often in no condition to safeguard themselves against the many risks involved in many healthcare settings. That requires someone else to act as an advocate for the patient, checking that medical staff follows the procedures required to minimize risks such as infection or incorrectly administered medication.
Who would make a good advocate? According to Pulse president Ilene Corina, "The person who loves the patient most may not be the best advocate. His or her emotions may get in the way of good communication and helping in clear decision-making."
Pulse's Family-Centered Patient Advocacy Training prepares each participant to be a patient safety advocate for one person or the whole family.
Participants who complete the full course and pass an exam will be awarded a Patient Advocate Certificate verifying their qualifications.
The training costs $125 per person, though scholarships are available and a team of three people attending will pay only $75 each.
For more information please (516) 579-4711 or e-mail icorina@pulsecenterforpatientsafety.org
Source: Pulse Center for Patient Safety Education & Advocacy
Share: