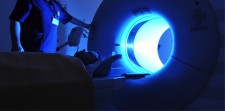 The Peggy Lillis Foundation and Pulse Center for Patient Safety Education & Advocacy co-sponsor a showing of this hard-hitting documentary, to be hosted by The South Nassau Unitarian Universalist Congregation Social Action Committee.
WANTAGH, N.Y., June 27, 2018 (Newswire.com) - What do permanent birth control device implants, vaginal mesh, the "da Vinci" robot and artificial hips made of cobalt have in common? They were all approved by the FDA, and they have all posed significant problems and risks in use on patients.
The multibillion-dollar medical device industry has benefitted from lax oversight and regulation, allowing medical devices to reach the open market without adequate testing and evaluation. This is the theme of a shocking new documentary, "The Bleeding Edge," directed by Kirby Dick ("The Invisible War," "The Hunting Ground") that examines the ways in which this situation puts patients at risk. The film, produced by Netflix, premiered at the Tribeca Film Festival.
The Peggy Lillis Foundation and Pulse Center for Patient Safety, Education and Advocacy will sponsor a screening of "The Bleeding Edge" followed by discussion, on Wednesday, July 25, at SNUUC 228 South Ocean Ave Freeport, NY, 11520. Doors open at 6:00 P.M for light refreshments and the film starts at 6:30 P.M.
There is no cost for the show, but Pulse requests those planning to attend to RSVP: (516) 579-4711 or e-mail icorina@pulsecenterforpatientsafety.org
As David Hessler, a former FDA commissioner, is quoted as saying, "When it comes to medical devices, we built a system that doesn't work." According to Pulse CPSEA president Ilene Corina, that statement applies to issues wider than just medical devices. "Despite the efforts of the healthcare industry, the rate of harm caused to patients in their course of their treatment is still unacceptably high. A key part of the solution is an informed community that understands the risks and can help prevent them. This film screening is part of that community education effort."
When: Wednesday, July 25, 2018
Where: 228 South Ocean Ave Freeport, LI NY 11520
Time: Doors open at 6:00 P.M. for light refreshments - Movie begins at 6:30 P.M. Discussion will follow
Cost: This screening is free but please RSVP
RSVP: (516) 579-4711 or e-mail icorina@pulsecenterforpatientsafety.org
Hosted by: Pulse Center for Patient Safety Education & Advocacy
www.pulsecenterforpatientsafety.org
Source: Pulse Center for Patient Safety Education & Advocacy
Share: