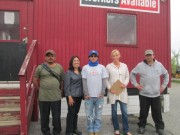 Outreach Helps Hispanic Workers Participate in their Healthcare
Wantagh, NY, September 3, 2015 (Newswire.com) - Patient safety organization PULSE of NY, with support from the Long Island Community Foundation's Long Island Unitarian Universalist Fund, has successfully completed an 18-month project with day laborers on Long Island, aimed at improving the safety of their health care and boosting their involvement in it.
Day laborers form a particularly vulnerable population on Long Island when it comes to health care. Anti-immigrant sentiment is common. They are uninsured and low-paid. Many don't speak English well. Some are undocumented. They rarely understand their rights.
"These workers often do not seek medical care when it is needed, or put off care for as long as possible."
Rights, safety, communication, navigation
Funding from the Long Island Unitarian Universalist Fund enabled PULSE to partner with KoLoKi, Inc., which runs the Freeport Trailer, a support center for Long Island day laborers. The programming PULSE of NY offered focused on patient rights and safety, navigation of the healthcare system, and communication skills. Through education, these men became more active participants in their own healthcare decision-making.
The Project Coordinator at the Trailer was Mirna Cortes-Obers. "Because of the obstacles they face, these workers often do not seek medical care when it is needed, or put off care for as long as possible," she says.
PULSE's curriculum, which included health literacy, patient rights, patient safety and navigation of the healthcare system, was delivered through workshops, focus groups, role play, and presentations by representatives from partnering agencies to share relevant information. For example the Hispanic Counseling Center delivered two workshops on substance abuse and domestic violence; North Shore-LIJ's mobile HIV testing unit visited twice. All written materials (from PULSE, the National Patient Safety Foundation and the American College of Physicians Foundation) were provided in Spanish as well as English.
Impact
According to PULSE of NY President Ilene Corina, "The immediate impact of our work was clearly visible as we raised awareness on all the planned topics related to patient safety and patient rights. Feedback received from the men and their utilization of the information learned was encouraging. Their education and resulting empowerment had a very positive impact on this marginalized population. The project also revealed that our local hospitals are in need of staff training and a shift in behavior towards the non-English-speaking immigrant population."
For more information about PULSE of NY and its projects, please visit www.pulseofny.org or call (516) 579-4711.
Share: