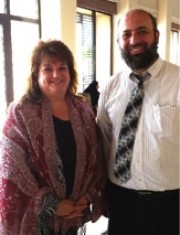 PULSE of NY President Ilene Corina has addressed a patient safety conference in Saudi Arabia. She was among the keynote speakers at the first International Quality & Patient Safety Conference held in Jeddah, at which US-based experts met with their Middle Eastern counterparts.
Wantagh, NY, November 10, 2015 (Newswire.com) - Ilene Corina, President of patient safety advocacy group PULSE of NY, was among the keynote speakers at the first International Quality & Patient Safety Conference held in Jeddah, Saudi Arabia November 3-5, 2015. The conference, hosted by King Faisal Specialist Hospital and Research Centre, had the theme Patient Safety: An Endless Journey.
The crowd pouring into the lobby of the Park Hyatt Hotel as the conference opened included more than 350 professionals attending from throughout the Middle East who had come in search of the latest information on patient safety. The speakers included US leaders in research, patient safety and quality, as well as the most innovative thinkers, healthcare professionals and patient safety leaders from throughout Saudi Arabia.
"Safe health care isn't just a concern in the U.S., it is a worldwide issue. It is heartening to see a major conference in the Middle East bringing medical professionals together with global experts in patient safety to address this urgent problem."

Ilene Corina, President, PULSE of NY
In her presentation, Corina shared the work being done by PULSE of NY: encouraging patients to be involved in their care, and encouraging the audience to help families understand patient safety so they too can be part of the care team. She talked about the individuality of the patient and the importance of communication and health literacy among the different groups with unique needs that she focuses on as part of the PULSE of NY Patient Safety Advisory Council. "There is so much we don't know about people as individuals," Corina explains.
"This event has been a great learning experience for me," she adds, "not only the conference itself but the information shared by the attendees who clearly have a great thirst for knowledge."
Dr. Ramzi Abuzahrieh, Deputy Chief Officer Quality Management of King Faisal Specialist Hospital & Research Centre, and the conference's organizer said, "It was a privilege having Ms. Corina present at the conference. Her presentation was well received by the audience, and it really added value to conference overall. We will definitely have PULSE presented in future quality and patient safety conferences."
King Faisal Specialist Hospital & Research Center (Gen Org) is a tertiary care hospital that has been accredited by Joint Commission International since 2000. It has recently achieved Magnet Designation to become the first in the Gulf Region, second in the Middle East, and sixth internationally.
Share: