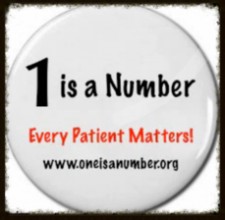 Patient Safety Week + Pulse CPSEA Spring Symposium
WANTAGH, N.Y., March 12, 2018 (Newswire.com) - It is Patient Safety Awareness Week, March 11 - 17, 2018. This week is the time every year when patient safety advocates, educators, healthcare professionals — and, we hope, everybody who is or might someday be under the care of a healthcare provider or clinician — thinks and learns about the risks involved in medical treatment, and the steps we can take to avoid them.
Pulse Center for Patient Safety Education and Advocacy, a Long Island, NY nonprofit that is a national leader in community-based patient safety advocacy training, has assembled some of the most important facts and numbers relating to patient safety on a website: www.oneisanumber.org.
It's important for people to have quick access to real quantitative and factual information about all aspects of patient safety.

Ilene Corina, President, PULSE Center for Patient Safety Education & Advocacy
According to Pulse CPSEA president Ilene Corina, "It's important for people to have quick access to real quantitative and factual information about all aspects of patient safety. With One Is a Number, we provide a portal to many studies and news stories that help people understand the many sides of patient safety and the many ways it can be improved."
There are "fast facts" (for example, "Johns Hopkins patient safety experts have calculated that more than 250,000 deaths per year are due to medical error in the U.S.") There are links to news stories and articles such as Hospitals Mess Up Medications in Surgery—a Lot. There are studies organized by topics, such as Falls, Infections, Disparities, and Bias in Healthcare, and more. And there's a Solutions page, with tips, demonstrations, and suggestions for what you can do to help keep yourself and your family safer.
(Note: all these pages are accessed via the drop-down menu under "One is a Number" at the top of the page.)
Corina adds, "If you use 'One Is a Number' and know of facts, figures or stories that you think should be listed on the site, please submit the details at: http://www.oneisanumber.org/contact.html."
If it's about multiple facts and figures, why is the site is called "One is a Number"? Corina says, "Each number represents someone who entrusted their life or the life of a loved one to the healthcare system."
Symposium 2018
Three million is also a number. That's approximately the population of Long Island — a population served by many nonprofit community organizations. This year Pulse CPSEA is changing the format of its annual Spring Symposium to provide a source of funding for Long Island nonprofits wanting to offer patient safety training to the communities they serve. All nonprofits that send representatives to attend the Symposium will be eligible to apply for a grant from the Long Island Patient Safety Fund to support patient safety education programs.
The Symposium will take place May 4, 2018. More information here: http://www.psefund.org/2018-patient-safety-education-spring-symposium.html.
Source: Pulse Center for Patient Safety Education & Advocacy
Share: